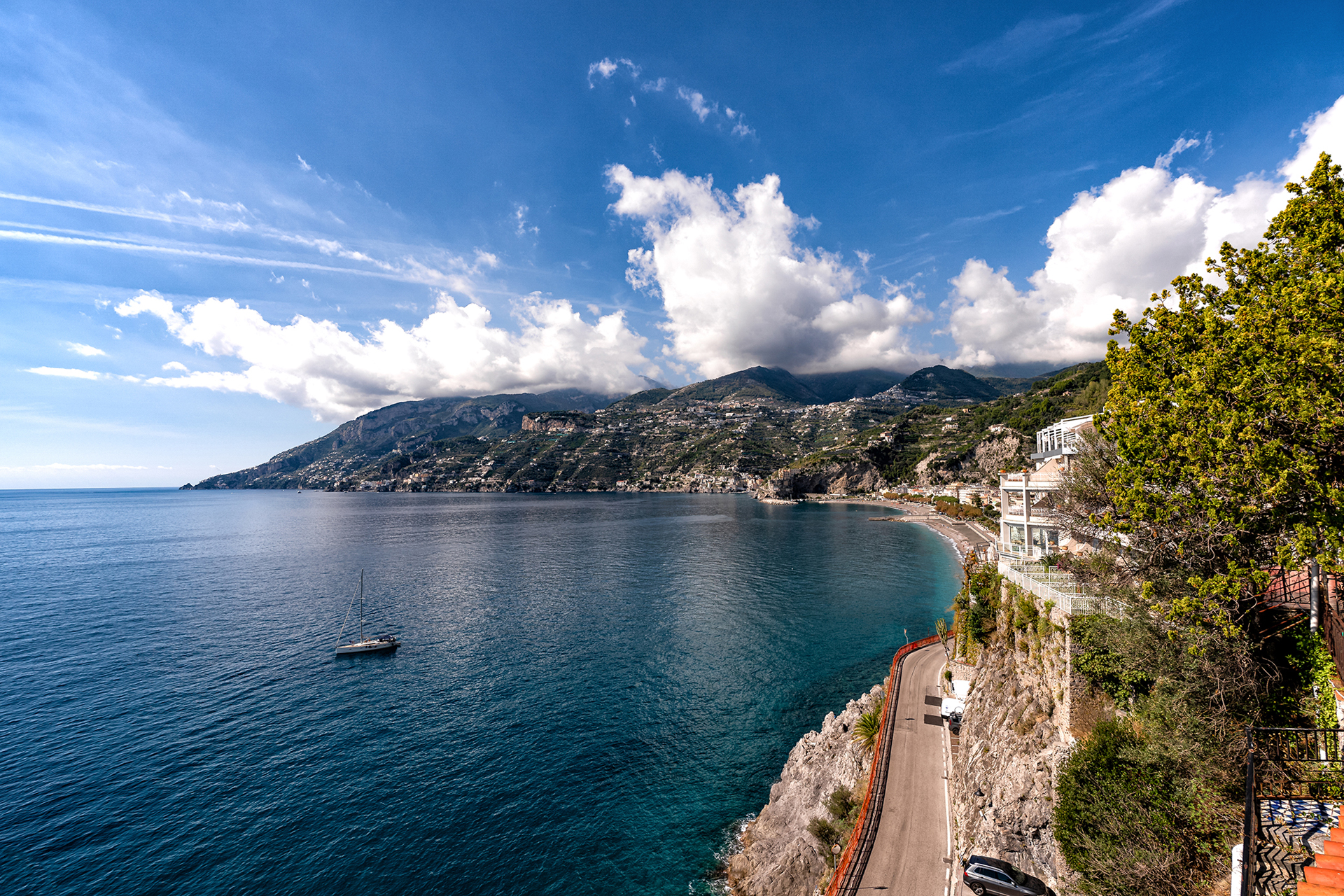 At the gates of Amalfi an engraving welcomes the visitor:
"For the people of Amalfi, the day they go to Paradise will be a day like any other, because they already have Paradise at home!
Amalfi has been a land of Normans, Lombards and Saracens for centuries, and is also the oldest of the Maritime Republics that stole the thunder from Genoa and Venice in trade with the East.
Today it is one of the most popular destinations for a romantic stay, thanks to its enchanting atmosphere and unique landscape.
The village gives its name to the homonymous coastline, declared a UNESCO World Heritage Site in 1997.
One of the most beautiful naturalistic areas in Europe, it stretches from Amalfi to the Gulf of Naples and the Gulf of Salerno, including 16 municipalities. Behind the village there is a natural reserve, the Vallone delle Ferriere, where it is possible to live a unique experience walking among streams and old factories that produced the typical Amalfi paper to reach the Paper Museum located in an ancient and fascinating water mill. Amalfi is history, flavours, scents and an Arab-Sicilian architecture of which the Cathedral of Sant'Andrea is a visible demonstration. Rebuilt in the Baroque style, it conquers tourists with its Chiostro del Paradiso (Cloister of Paradise) and a superb staircase that starts from the main square of the town. A Mediterranean atmosphere with oriental traits pervades Amalfi and gives back to the sight architectural beauties, shops hidden among the alleys and watchtowers such as the Saracen Tower near the Convent of San Francesco. Amalfi is not only a tourist destination but is recommended for those who love good food with its strong, characteristic and welcoming flavours.
You can start with appetizers such as Caciocavallo cheese, the salted recipe and the marinated, fried and pickled anchovies of Cetara; then move on to the fantastic first courses such as spaghetti with lemon, scialatielli with clams and mussels, paccheri with monkfish, Minestra Maritata (a soup of vegetables boiled in chicken broth and accompanied by a typical local sausage "Pezzenta". Second courses include squid à la praiese, pezzogna all'acqua pazza, stuffed squid, caponata with freselle and grilled fish. Finally, there are desserts such as orange peel with chocolate, the traditional pasticciotto, babas, aubergines with chocolate and the famous limon delights (a sponge cake base with lemon cream and limoncello).
the latter being the signature of local gastronomy! It is a liqueur with ancient origins (from the early 1900s) prepared with the typical and famous lemon of the Amalfi Coast.